2019 Is Almost Over! Use your dental benefits or lose them.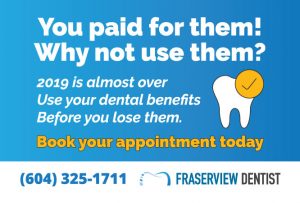 The end of the year is coming. Book now and check one more task off your holiday to-do list.
Book you appointment with us A.S.A.P to ensure you are seen before the end of the year.
We will work with your dental insurance provider to ensure you are getting the most out of your dental benefits plan.
Use the contact info or form below and request your appointment today!
Fill out the form below or call us at (604) 325-1711 to request an appointment.
"*" indicates required fields