Your South Vancouver Family Dentist – Fraserview Dentist
We stress the importance of good dental hygiene for family members of all ages, taking good care of all 32 teeth of yours.
Call Now (604) 325-1711
Book An Appointment
2019 is almost over, use your dental benefits before you lose them!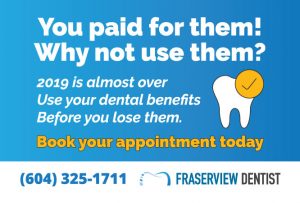 Book your appointment now
to make sure we can see you before the end of the year! We are accepting all new patients and will work with your insurance providers to ensure we maximise your dental benefits.
We now offer both general dentistry and cosmetic dentistry, as well as dental sedation.
As always, we charge according to the BC Dental Association Fee Guide, and accept and direct-bill most insurances, contact our office today and learn more, or book your appointment.
Proud Members Of Your Community
We offer the entire spectrum of dental services, from routine cleanings, check-ups, and filling cavities to more complex procedures like root canals, extractions, crowns, bridges, and implants. To put it more simply – if something's not right with your teeth, or it's been a while since your last check-up – come on in, and we'll take care of you.
Fraserview Dentist has been serving the Fraser Street community since the late '60s. We have staff members who've lived in this area their entire lives, and we've been involved in supporting local schools, churches, and the community as a whole in many different ways over the years.
Behind every great practice is a great team. Our Dentists and staff genuinely care for the people and the community we live in and have many combined years of experience that make us stand far beyond in the industry. Need convincing? Just read our online reviews, or learn more about our team at Fraserview Dentist.
Why Choose Fraserview Dentist?
Dr. Chris Lee and his team of dental professionals welcome folks looking for a good dentist in Vancouver who's known for great work and a friendly, genuinely caring approach towards every patient. We're open Saturdays, and have extended hours to accommodate working people more effectively. Free parking is available behind the clinic, and on the street in front of the clinic.
You deserve to experience what first-rate dentistry services feels like, so please give us a call or come by our South Vancouver dental office. We look forward to meeting you.